Reversed Boards
A Reversed Board consists of a program enabling highly motivated students from diverse backgrounds (in our case, students in Bachelor and Master from UNIL, IMD and EPFL) to exchange with leaders in the industry and share their personal opinions on key strategic dimensions.
What is it about?
Reversed Boards give top-managers the opportunity to better relate to, understand, and onboard the young generation. It is also an opportunity to gain insights and original ideas to steer the company in a direction supported by the next generation.
Why should companies get a Reversed Board ?
• GET FRESH IDEAS
Gain a rapid and authentic understanding of the youth values
• GET EXPOSED TO YOUNG TALENTS
Network and onboard talented students
• CONNECT WITH RENOWN ADACEMIC INSTITUTIONS
Become part of the EPFL, UNIL and IMD network
Why should students join a Reversed Board ?
• GET HANDS-ON EXPERIENCE
Work on concrete projects, build up your résumé with a unique experience, and network with other fellow students
• CONNECT WITH TOP MANAGERS
Understand how top-tiers firms think at the strategic level and get exposure for a potential internship/job
• MAKE AN IMPACT
Directly influence the strategic business decisions of big companies.
Program
A sharing of experience, visions and values but also an opportunity to advise a company's top management during 6 online working sessions.
Reversed Boards consist of a group of selected students bringing in authentic opinions and ideas on a compans's key strategic topics. Reversed Boards allow the company's top management to access the input of future generations and gain insights into their mindset and values in a structured, efficient and focused way.
At the end of the program 2 students will be selected to join the company's CEO for a one week unique journey as a Co-CEO.
When is it happening ?
Program: April-May 2022 (applications are closed).
Who is it for ?
Innovative corporates, Students from EPFL, UNIL and IMD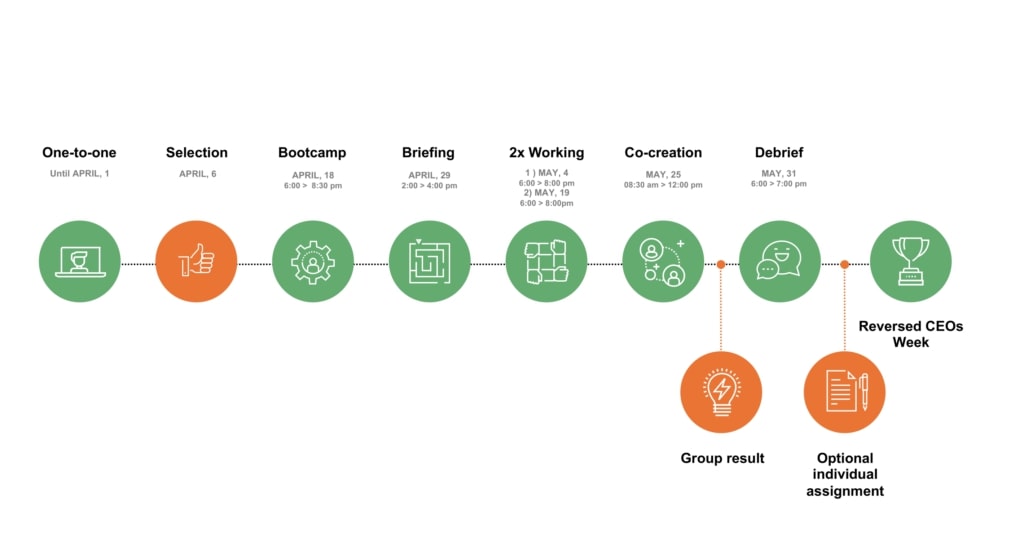 To apply and be part of the Reversed Board, you must:
be registered as a student at one of the following institutions; UNIL, IMD & EPFL.
demonstrate outstanding motivation and authenticity
be willing to make a commitment for the duration of the Reversed Board program. (Approximately 15 hours of work spread over 3 weeks)
be able to attend all sessions
speak and understand English
2022 Reversed Nespresso Board
The Reversed Nespresso Board took place virtually between April and Mai 2022. 
30+ students from EPFL, UNIL and IMD worked in teams with the top management of Nespresso to co-create projects for the company.
From sustainability initiatives to new technologies and product development, students contributed to key strategic topics, with concrete ideas ready for implementation.
Nespresso CEO Guillaume Le Cunff and Anna Lundstrom, Nespresso's Chief Brand Officer, share their view on the Reversed Board initiative.
FAQ
Can I apply with my friend ?
No, the application is done on an individual basis. You will then be assigned to a team composed of students from the 3 institutions.
Is it possible to apply even though I already know I won't be able to come to any of the sessions?
No, you must be able to attend all the sessions.
Who will be selecting the Reversed members ?
The Reversed Board organising team supported by the E4S team will select the students.
When will the Reversed CEOs Week take place?
The week will be aligned between CEO Guillaume Le Cunff's agenda and the 2 selected students.
Where will the sessions take place?
For this second Reversed Board, we decided to play it safe, and to plan all the session via Zoom.
How good do I need to be in English?
Sessions and discussions between students and top management will be conducted in English. It is necessary that you feel comfortable expressing yourself in English.
In collaboration with: