Education
Master of Science in Sustainable Management and Technology (SMT)
Master of Science in Sustainable Management and Technology
Unlocking the Potential of Economic and Engineering Education for a Sustainable Future
Do you hold a bachelor's degree in Economics, Management or Engineering and are you passionate about sustainability?
The Master program in Sustainable Management and Technology (SMT) is tailored to equip you with the essential technical and economic skills needed to tackle real-world sustainability issues.
Overview of the Master Program
Watch the video presentation of the SMT Master
What do our students think about the Master?
Objective of the Master Program
The SMT Master program trains students to be the leaders of a sustainable, prosperous, and inclusive society.
Combining rigorous academic training and personal skills development, students learn to integrate better governance with thoughtful and innovative technology to address the world's toughest challenges.
To do so, students tackle real problems provided by organizations from E4S's rich innovation ecosystem in a highly interdisciplinary, diverse, and international environment.
The SMT Master is jointly offered by UNIL-HEC, IMD, EPFL, three world-leading institutions at the forefront of research and education in technology and management.
Benefits of the Master Program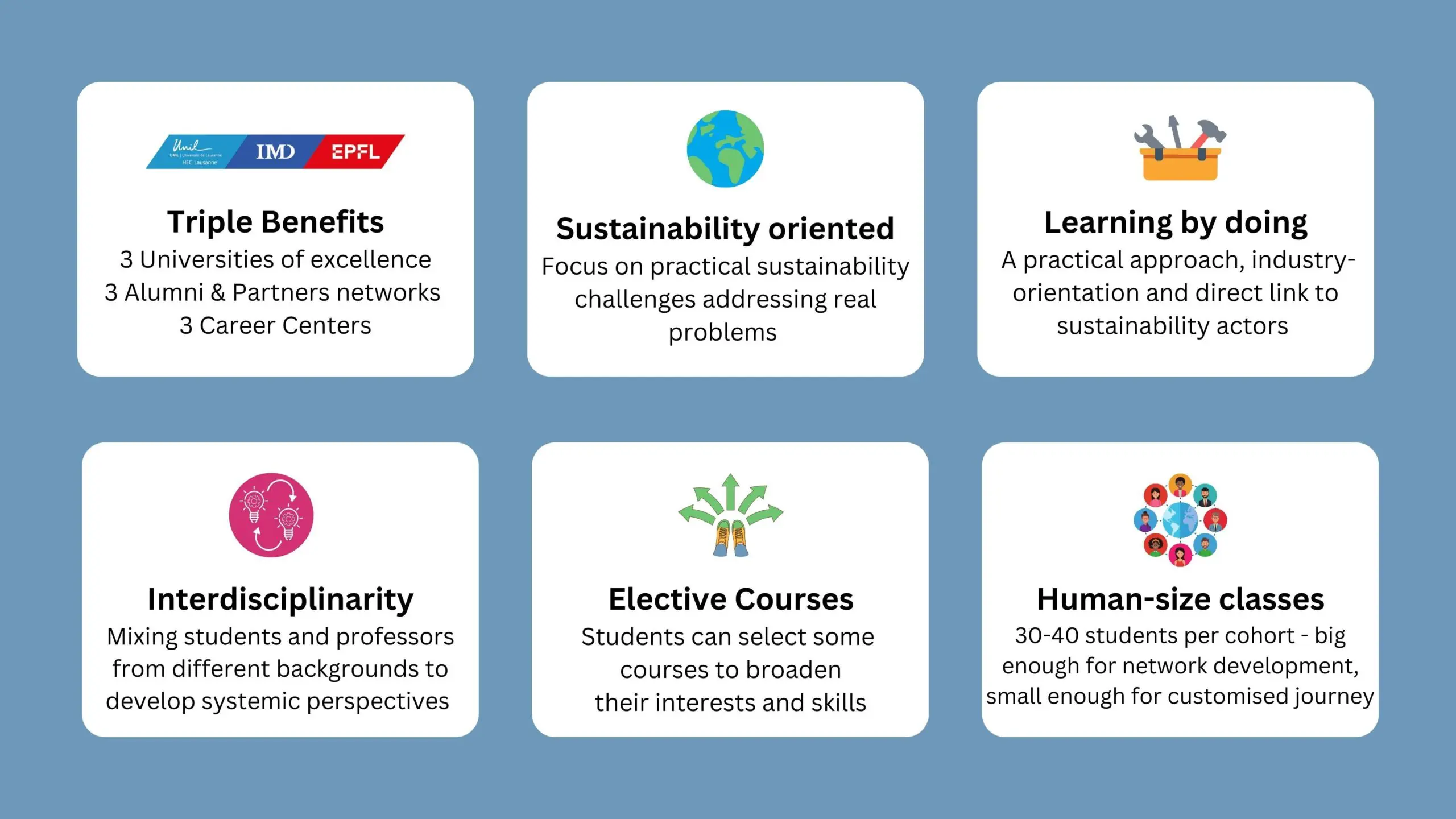 Triple benefits
Education provided by three institutions of academic excellence and access to their networks (3 alumni networks, 3 career centers, 3 networks of industrial partners).
World-class training at an affordable price
We believe that quality education should be accessible to all. That's why the SMT Master program offers an exceptional learning experience at the affordable cost of CHF 780 per semester. Embrace top-tier training without breaking the bank.
Building competences for sustainability
Our program bridges the gap between the economy, management, and technology, enabling you to become an agent of change. Additionally, the Master offers elective courses that allow you to delve deeper into your specific areas of interest, further enhancing your expertise.
Learning by doing
Our industry-oriented curriculum exposes you to real-world scenarios, preparing you for the challenges and opportunities that await. The fourth semester is dedicated to an internship, providing valuable hands-on experience and facilitating your entry into the job market.
Promoting interdisciplinarity
We believe in the power of collaboration and diverse perspectives. With small, human-sized classes of 30-40 students, the SMT program fosters an environment that encourages fruitful exchanges between like-minded individuals who share common values.
The Study Plan
The study plan at SMT combines a comprehensive set of courses taught in English by professors from UNIL, IMD, and EPFL. Upon completion, you will be awarded a Master of Science degree jointly delivered by the three prestigious academic institutions.
Admission
Entry requirements: Candidates must hold a Bachelor's degree either with an engineering profile or a management/economics profile and with a minimum average grade of 4.5 or equivalent over the entire Bachelor's program.
The application process must be done through the EPFL application platform.
Check the entry requirements and application process here.